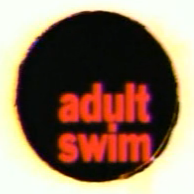 Adult Swim, Cartoon Network
Adult Swim Wiki; Cartoon Network Wiki; facebook; official website; TV IV; TV Tropes; Wikipedia
For more links see tek's animation links
Brought to you by Williams Street Studios, who had previously created Toonami and later Miguzi
2001
This is a late night block, mostly of animation (both Western and anime), but later also included some live-action series. The block officially began in September 2001, though in December 2000, there had been stealth premieres of some new shows that would be part of the block's lineup. (But I don't remember now if I had seen those before the official debut of AS, or not.) Of course, even before Adult Swim debuted, Cartoon Network had done some adult-oriented programming, probably most notably with the 1994 series Space Ghost Coast to Coast, which would later become part of Adult Swim's lineup. (There had also been some late nite programming blocks that I don't think I ever saw, or if I did, they obviously didn't matter enough to me to remember them.) In 2005, Adult Swim became a new network, in name only. It's still technically just a block on Cartoon Network. Oh, and I should say that Adult Swim has always been famous for its bumpers (or "bumps"), which originally were videos and later were mainly text-based, but always rather amusing (and often would be specific nods to the block's own fandom). The bumps are archived on a fansite called Bumpworthy.
I also kind of feel like mentioning that in August 2001, Cartoon Network aired a marathon of pilots for potential new series, the second annual (and last) Big Pick. This doesn't really have anything to do with Adult Swim, but the pilot that was chosen to become a series was Codename: Kids Next Door (which also has nothing to do with Adult Swim), and if memory serves... "adult swim" was mentioned in the pilot. Of course, it was referring to the real world concept used at public pools, which is also where the name of the block "Adult Swim" was derived. I can't remember if when I saw that pilot, I took note because I was aware that Adult Swim would be starting the next month, or if when I later saw Adult Swim, I thought of the KND pilot, but either way, I've always vaguely associated the two things. Partly this is because I don't think I'd ever heard the term "adult swim" prior to that time (though I could be wrong about that), and partly it's because I just like making weird connections that probably aren't really there.
But I digress. There are just countless things I'd like to say about Adult Swim, because it very quickly became pretty important to me, and ultimately became my favorite programming block ever. It was probably in 2002 that I started going to The Adult Swim Message Board (it's on Yuku now, which was ezboards, at the time). An unofficial message board frequented by numerous fans of Adult Swim, and a good alternative to the official Adult Swim forums, which I don't think I ever went to. (I know some of the other members of ASMB went to the official forums, and I'm pretty sure they didn't like them.) Anyway, I liked a lot of the folks on ASMB, including its founder, outerspacekid (aka Kon). But alas, after several years, people stopped posting there as much. Used to be hard to keep up on all the discussions, but nowadays there's maybe a few posts a year, if that. I should also mention that for awhile, people on ASMB were all making their own banners for the board, which I eventually put in an archive on my own site. Oh, and there were probably one or two different Adult Swim fansites hosted by outerspacekid, which don't exist anymore. But luckily, you can still see The Best Adult Swim Webpage on the Internet thanks to the miracle of modern science known as The Wayback Machine.
Anyway, as I said on the main programming blocks page, I meant to start a page about Adult Swim for some time before I finally got to it, in January 2014. But a couple days after I started writing this page (and then got sidetracked by pages for other Cartoon Network blocks), I remembered that once, years ago, I actually had a page for "Adult Swim Comedy," which I later deleted. But now that I've remembered that page once existed, I managed to find it thanks to The Wayback Machine. So I am giddy about that. And I decided to restore it, for the sake of nostalgia or whatever. As that page says, when Adult Swim first started in 2001, it was originally on Sunday nights, and its lineup would rerun on Thursday nights. The original lineup included Home Movies (reruns from UPN, though I didn't see it until it was on AS, and later there were three new seasons created specifically for AS, ending in 2004), The Brak Show (ended 2003), Harvey Birdman, Attorney at Law (ended 2007), Aqua Teen Hunger Force (ongoing), Sealab 2021 (ended 2005), Space Ghost Coast to Coast (ended 2004, though there were later webisodes that I don't think I saw), and Cowboy Bebop. Other shows that were added to the Sunday lineup in 2002 included a few things that were originally on the WB, but which I probably never saw until they were on AS: Baby Blues, Mission Hill, and The Oblongs. There was a show called "The Ripping Friends," which was originally on FOX, which I only saw on AS... but I probably didn't watch more than one episode, because I didn't care for it. There were also a few one-shot specials, including "Boo Boo Runs Wild," "The Groovenians" (which sticks in my mind as one of the worst things I've ever seen, though I don't really remember anything specific about it, now), Night of the Living Doo, Saddle Rash, Welcome to Eltingville, and some other things that I either never saw or just don't remember. (For any of the lineups I detail in the following paragraphs, there may be any number of series or specials that I don't mention either because I never saw them or don't remember them, but there will be some things I mention if I remember at least watching one episode).
2002
In 2002, Adult Swim added a second night of new episodes, on Saturdays. At this point, the Sunday lineup would be known as "Adult Swim Comedy" (hence the name of my old page) and the Saturday lineup would be "Adult Swim Action," which was all anime. A precursor to Adult Swim Action was Toonami, a block which normally aired on weekday afternoons, but also sometimes aired a late night block called "The Midnight Run." I honestly don't remember if I ever saw any of the Midnight Run or not, but I know some of the animes I list here (such as Gundam 0080 and Outlaw Star) were first shown on that block, so I can't say with absolute certainty that I didn't see them on that block rather than this one. I wish my memory didn't suck so much. (Midnight Run was cancelled in January 2003, so at least anything that debuted on Adult Swim after that point, I can be sure I saw on AS. Probably.) Anyway, some of the animes that premiered on AS in 2002 included Gundam 0080, Gundam 0083, Inuyasha, Outlaw Star, Pilot Candidate, and Yu Yu Hakusho (which later finished its run on Toonami).
2003
In January, Adult Swim dropped Saturday nights, and started showing a mix of comedy and anime on Monday-Thursday nights. Sundays remained basically the same as ever, but the days of specifically "Adult Swim Comedy" and "Adult Swim Action" lineups were pretty much over. (Around the time of that change, I moved most of the shows off my "Adult Swim Comedy" page and into the regular animation pages of my site, just keeping a few specials on the old page. It was probably a few years later that I deleted the page entirely, when I moved the specials into my new special presentations section.) At some point, AS returned to airing anime primarily on Saturday nights, though I'm afraid I have no recollection of what year that happened. (For at least a few years, the block aired six nights a week, Saturday thru Thursday, but I don't remember what the status was of new episodes vs. repeats. It may be that as soon as Saturdays were re-added, they became premiere nights, or it could have been years later that that happened.)
Anyway, some of the shows added to the lineup in 2003 included reruns of former FOX shows Futurama and Family Guy, and the animes Android Kikaider, The Big O, "Blue Gender" (of which I watched very little because I disliked it), Char's Counterattack (movie), FLCL, Lupin the 3rd, Reign the Conqueror, and Trigun.
2004
This year's debuts included new AS originals Perfect Hair Forever (ended 2005, though there was another episode in 2007 that I don't think I saw), "Stroker and Hoop" (of which I watched very little because I didn't like it much; ended 2005), Tom Goes to the Mayor (ended 2006), and The Venture Bros. (of which a pilot had aired in 2003; ongoing), as well as the animes Case Closed, Fullmetal Alchemist, Ghost in the Shell: Stand Alone Complex, Read Or Die (OVA), Super Milk-chan, Witch Hunter Robin, and Wolfs Rain.
2005
This year's debuts included new AS originals 12 oz. Mouse (ended 2006, though there was a webisode in 2007 that I never saw), The Boondocks (ended 2014, though there were just four seasons), Lucy, Daughter of the Devil (pilot), "Minoriteam" (of which I probably just watched one episode because I disliked it; ended 2006), Moral Orel (ended 2008, though there was a special in 2012 that I haven't seen), Robot Chicken (of which I've watched very little; ongoing), "Squidbillies" (of which I saw very little, because I wasn't that into it; ongoing), reruns of FOX's American Dad, and animes "Gigantor" (a classic from the 1960s, which I don't think I saw much of), Inuyasha the movie: Affections Touching Across Time, Inuyasha the movie 2: The Castle Beyond the Looking Glass, Kakurenbo (short film), Neon Genesis Evangelion, Paranoia Agent, Samurai Champloo, and s-CRY-ed. Also in 2005, the Adult Swim website began offering the "Friday Night Fix," so viewers could watch some of their shows online, the one night of the week that AS wasn't airing on TV. In 2006, the Fix would become Adult Swim Video, which was available for viewing any time.
2006
This year's debuts included new AS originals "Assy McGee" (of which I just watched one episode because I didn't care for it; ended 2008), Frisky Dingo (ended 2008), "Korgoth of Barbaria" (failed pilot), Metalocalypse (ongoing), reruns of the old CBS Saturday morning show Pee-Wee's Playhouse and the old NBC Saturday morning show Saved by the Bell, as well as animes Bleach, Eureka Seven, Shin-chan, and Trinity Blood.
2007
This year's debuts included AS originals Lucy, Daughter of the Devil (for which the pilot aired in 2005; ended 2007), "Saul of the Mole Men" (of which I just watched one episode; ended 2007), "Tim and Eric Awesome Show, Great Job" (of which I watched just one or two eps, because I didn't care for it; ended 2010), and "Xavier: Renegade Angel" (of which I think I just saw one episode, because I kinda hated it; ended 2009), British series Garth Marenghi's Darkplace, as well as animes Astro Boy (classic 1960s series), Blood+, and Death Note. Also this was the last year AS aired repeats of "Futurama," which moved to Comedy Central. And this year the schedule expanded to 7 days a week. And there was a thing called Night of 1000 Pilots, which led to a few new series in 2008 (only two of which I actually watched). One of the pilots that didn't become a series was "That Crook'd 'Sipp," the only failed pilot that I remember from the special.
2008
This year's debuts included AS originals The Drinky Crow Show (the pilot of which aired in 2007; ended 2009), Superjail! (pilot aired in 2007; ongoing), The Xtacles (which only aired 2 episodes), and animes Code Geass and Moribito.
2009
This year's debuts included AS originals "Delocated" (the pilot aired in 2008, and that's probably all I saw of the series; ended 2013), G.I. Joe: Resolute (a microseries that first aired on Adult Swim Video, and later as a movie/special on AS), The Rising Son (ended 2009), Snake 'n' Bacon (special), Titan Maximum (ended 2009), British series Look Around You and The Mighty Boosh, and reruns of FOX's King of the Hill, animes Bleach: Memories of Nobody (movie), and Bleach: The DiamondDust Rebellion (movie). And this year AS began the April Fool's Day tradition of airing the movie "The Room," though I only managed to watch a couple of minutes before I couldn't bear the suckitude, and stopped.
2010
This year's debuts included AS originals "Check It Out with Dr. Steve Brule" (which I didn't watch at all because I just wasn't interested; ongoing), "Children's Hospital" (of which I watched very little because I wasn't that into it; ongoing), "Freaknik: The Musical" (special), Mary Shelley's Frankenhole (ended 2012), Scott Pilgrim vs. the Animation (short), and the animes Fullmetal Alchemist: Brotherhood and Kekkaishi. And there was a contest for potential pilots that viewers could vote on, and viewers voted wrong, so the winning pilot didn't get made into a series. (Cheyenne Cinnamon? Are you freaking kidding me? What were you people thinking?)
2011
This year's debuts included AS originals Eagleheart (ongoing), "Mongo Wrestling Alliance" (of which I think I watched an episode, but I didn't like it; ended 2011), repeats of NBC's old show God, the Devil and Bob, and anime Durarara!!. There were other things that premiered this year, but I lost access to Cartoon Network halfway into 2011, so I haven't been able to see anything on Adult Swim since then. Which means I can't comment on anything that's premiered in the last few years, though I am aware that the Toonami block was revived in 2012 as a part of Adult Swim.
Anyway... no doubt there are countless things I about the block (aside from the actual shows it aired) that I should say, but I can't think of anything. Except that I'm bummed about not being able to watch it anymore. And also I feel like sometime in the last few years, the website kind of started sucking. But whatever, Adult Swim remains, in my mind, one of the coolest things ever put on television. Which is saying a lot, because television is one of my favorite things in life, to begin with.
---
blocks index