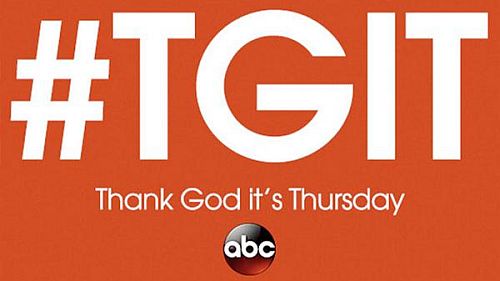 TGIT, on ABC
Twitter; Wikipedia
"Thank God It's Thursday" is a Thursday night block of dramas that are all produced by Shonda Rhimes. (Her production company is called Shondaland.) I'm afraid I can't really say anything specific about the shows that air as part of the block, since I don't watch any of them, but I at least wanted to mention the block's existence. TGIT was officially branded as such in fall of 2014, with Grey's Anatomy (2005-present), Scandal (2012-present), and How to Get Away with Murder (2014-present).
The Catch joined the lineup in spring 2016. (It was cancelled after two seasons.)
Station 19 joined the lineup in spring 2018.
(Notorious joined the Thursday night lineup in fall 2016. But I think there's some disagreement over whether it was technically part of the TGIT block, since it wasn't produced by Shondaland. It was cancelled after one season.)
---
blocks index